AutoPly Products
AutoPly offers pre-cut insulation kits with self-adhesive backing for vans, RVs, work trucks, and other applications. AutoPly kits are ready to install and made to fit specific vehicle models. Our peel-and-stick application process ensures ease of installation, low labor costs, and no hassles with chemical adhesives or setup times.
Kits are made with 1/2-inch thick AutoWeave 0.5 and are also available in 1-inch thick AutoWeave 1.0 woven insulation material for more extreme applications.
Kit packaging
Insulation patterns are organized and packed into gaylord boxes by ceiling sets, left side sets, and right side + rear door sets.  Each set is separated by a paper sheet for ease of identification during the installation process.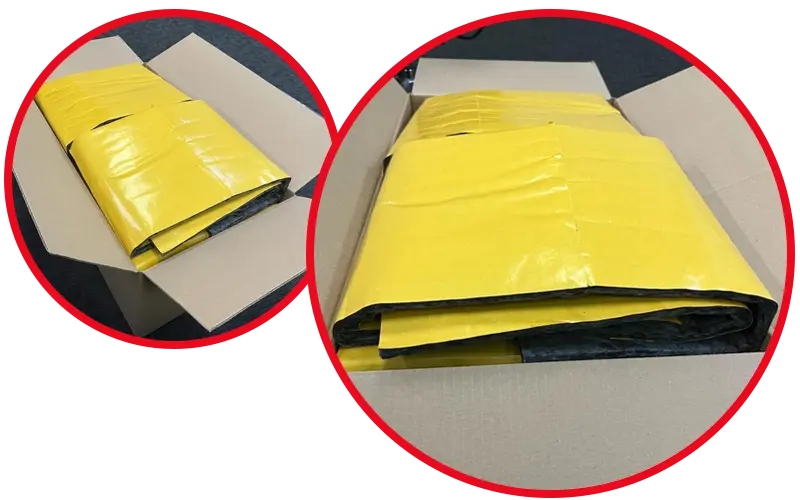 Bulk Insulation 2056, 2065-1
Transit 148 Medium Roof – AutoPly 5000M
Transit 148 High Roof EL – AutoPly 5000X
Transit Connect XLT – AutoPly 5500
Sprinter 144 High Roof – AutoPly 3144
Sprinter 144 High Roof Window – AutoPly 3144W
Sprinter 170 High Roof – AutoPly 3000
Sprinter 170 High Roof with Windows – AutoPly 3000W
Sprinter 170 High Roof Extended – AutoPly 3000X
Ram ProMaster and ProMaster City
ProMaster 159 High Roof – AutoPly 4000
ProMaster 159 High Roof with Windows – AutoPly 4000W
ProMaster 159 High Roof with Windows Extended – AutoPly 4000WX
ProMaster 159 High Roof Extended – AutoPly 4000X
RAM ProMaster City – AutoPly 4500
Step Van Pre-cut Insulation Kits
Universal Step Van 14 & 16 ft Ceiling Installation Schematic, Kit 5060

UtiliMaster F59 Step Van Sides Installation Schematic, Kit 5059

Morgan Olson MT 45 Step Van Sides Installation Schematic, kit 5061

UtiliMaster MT45 Step Van Sides Installation Schematic, kit 5062

UtiliMaster e450 Step Van Sides Installation Schematic, kit 5062

UtiliMaster CDV 16' Step Van Sides Installation Schematic, kit 5063

UtiliMaster CDV 14' Step Van Sides Installation Schematic kit 5063